The Golf Course at Adare Manor, host venue of the 2027 Ryder Cup, offers an authentic Irish golf experience thanks to its relaxed atmosphere, opulent surroundings and famed Irish hospitality.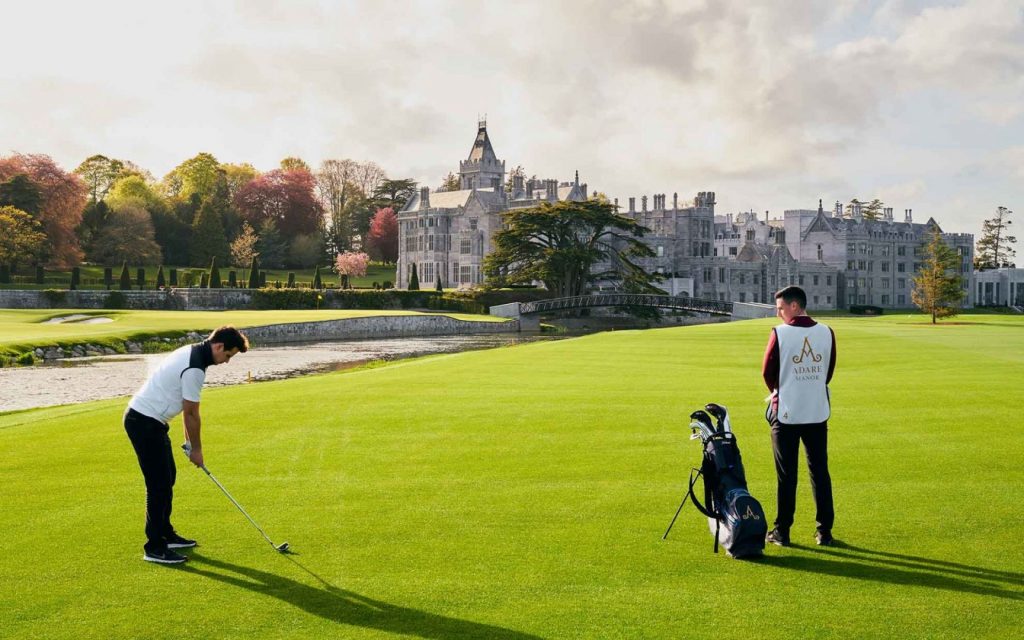 Redesigned by Tom Fazio, the County Limerick course epitomises the start of a new golfing era while paying homage to its storied past, thanks to the age-old trees that line the fairways and the River Maigue that traverse the championship lay-out.
During the 24-month course reconstruction, 220,000 tonnes of sand were used across the site to make sure every inch of the course had adequate drainage, in order to cope with the unpredictable Irish weather.
Although this may sound like a lot of sand, The Golf Course at Adare Manor in fact only features 41 bunkers.
There are few golf courses in the world that offer a golfing experience as pure as this Irish gem.
Planted throughout with mature trees, gorgeously landscaped, and bounded by the peaceful waters of the River Maigue, the course offers ever-changing vistas and breath-taking approaches to each hole. Opened in 1995, the course has since played host to numerous professional and amateur events, including the 2007 and 2008 Irish Open on the European Tour.
Five-time Ryder Cup star Rory McIlroy added: "The golf course is absolutely incredible. To have a course presented like this is phenomenal. It's parkland perfection."
As well as the stunning golf course, Adare Manor is one of Ireland's leading five-star castle properties.
Set on an 842-acre estate, the resort is surrounded by medieval ruins, walled gardens and winding woodland paths, and was recently reopened in 2017 after one of the largest restoration projects of its kind in Ireland. Add this unique property , which borrows its name from the nearby village of Adare, to your next vacation to Ireland.
Reference: The 2027 Ryder Cup, The Ryder Cup, 25.10.2023